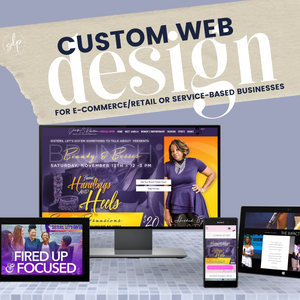 Custom Web Design Only (Add-Ons Available)
This bundle includes:
• 60 Minute Brand Analysis & Strategy Meeting
• Full Custom Website Build (Wix or Shopify) formatted for Desktop and Mobile use
• Custom Domain Registration for 12 months (if needed)
• E-Launch Announcement Design

Investment: One-Time-Fee of $799.99 
Add-ons can include:


Custom Logo Design ($189.99 Investment) - Final files are received in PNG, JPEG, SVG and PDF format
Social Media/Upgrade ($449.99): This includes the creation of Business Social Media Pages (Facebook & Instagram), Integration of FB and IG into your website, Set up FB and IG Shops via Meta, Full Bio Write-Up, Full Highlights Set Up, Fully Customized Aesthetics, LinkTr.ee Set Up and Implementation, Up to 20 Posts on FB/IG with fully written captions, and a one-to-one training on pre-scheduling social media posts
500 Prints Delivered To You ($119.99 Investment) -  Your Choice of a Custom Business Card with 2x3.5 dimensions or a 4x6 Mailing Insert/Promo Card
Need all three add-ons? No problem bundle them all for only $650!! WHAT A SAVINGS!
SDP OUTSTANDING
SDP is absolutely Great! Kim created not one but two websites for me. She helped me tirelessly when I could not figure out something with each site. Actually, she continues to be available even now when I should have the training wheels off. SDP Business is definitely about it's BUSINESS
Kim's Awesomeness
Like many small businesses, I too faced undeniable challenges in my early days. I had limited resources, but I needed to find the right lane for marketing. With so many brands clamoring for attention, I couldn't afford for my message to get lost in the chaos.
Thus, I turned to independent business owner Kim Shields, owner of SDP Business Studio for guidance and support. We connected immediately as I admired her personal story. A mother of four children whose work is exceptional and affordable. It amazed me how she exudes enthusiasm and creative energy like those working at larger marking firms.
After a few interviews about me and my products, Kim manage to transform my brand to a visual masterpiece that I now use on all my social media outlets and my new website. In no time, I watched how she elevated my brand to a higher-level.
If you are serious about your business and your brand then I encourage you to visit SDP Business Studio. Ms. Sheilds will not disappoint.
Just tell her that Bridget sent you.
- Bridget's Buttahs
Website
God gives you a vision but he also sends people to help you see it through.... I just want to thank you so much for bringing my vision to life!! I absolutely love my website… Contact her for all your website needs you will not be disappointed.. Whatever you need, she can make it happen!!
Heaven Sent
The web designer, Kim Shields, was such a blessing to me. She was so easy to work with and very patient. I just love her spirit. She took my vision to another level and shared her ideas as well. I am forever grateful. She was Heaven sent!
ABSOLUTE TRUTH!!!!
Kim Shields is the ABSOLUTE TRUTH & THE BEST!!! Hunnnnnnttttiiiiieeeee...I'm still in awe!!!! Please hit her up for ALL of your branding, marketing, & website needs!!!!