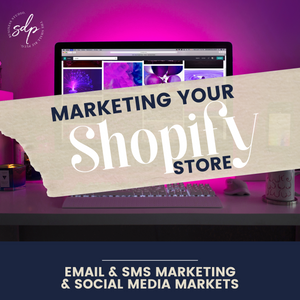 Marketing Your Shopify Store: Live Training
Requirements for this training:
Computer with internet
Access to your Shopify dashboard
Our basic training will define what Shopify Marketing is and what all it includes. I will walk you through your Shopify store's capabilities for email and SMS marketing campaigns.
You will learn how to quickly strategize, create, and send marketing campaigns for your business, and the best strategies to use when marketing your brand.

This course also helps you navigate your store on Social Media channels.

The basic level of this course will cover all of the learning material; however, it will not be hands-on for curating a specific strategy for your individual business/brand or implementation.

The 2-hour personalized course will cover all of the educational material, and will include a full hour of strategizing and graphic customizations (up to 4 graphic designs included) specific to your campaigns and brand. We will go through your site's connection to your social media channels and implement a 4-week marketing plan that won't require you to lift a finger after we are done! If needed, this two hour training can be broken into two separate classes if preferred.

Once you have paid for your course, please allow up to 2 business days to be contacted regarding scheduling.