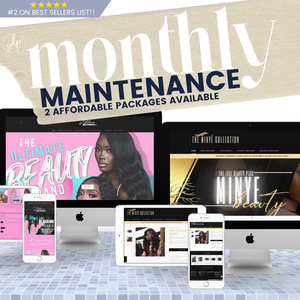 Monthly Brand Maintenance Packages
Monthly Brand Maintenance Packages are now AVAILABLE!!!

These packages are for brands who have established branding, websites, social media, etc. and need assistance with ongoing month-to-month maintenance! There is NO CONTRACT or minimum amount of months that you have to book for which means you can book for ONLY the month(s) you need the service!
Don't wait to book your monthly maintenance because we only offer a maximum of FIVE packages to our clients each month.

Package#1: Market My Brand (The 30 Day Package)
This package is designed for the brand that wants to take things up a notch and boost your presence online and with your clients! Our strategy has proven to boost sales and convert "likers" into BUYERS!

Investment: $499.99/1 Month
Includes:

Monthly Virtual Brand Strategy Session: In this session, we will build out your 30-Day Brand Focus
30 Days of Targeted Social Media Management & Email/SMS Campaigning (includes 20 Posts/Stories/Reels with full captions, call-to-actions, appropriate tags, and 15mins each day interacting with comments on the posts)
Custom Graphics (when required)

Weekly Email & SMS Campaigns


Four (4) Banners for Website with Matching Social Media Banners
Weekly Site Maintenance: Including sales/coupons, price changes, new products (up to 12 products), descriptions, services, etc. 
Package#2: Basic Web & Promo Maintenance
This package is designed for the brand that needs basic maintenance for the brand.
Investment: $199.99/1 Month
Includes:

20 Minute Virtual Call for Brand Strategy
Two (2) E-Flyer Graphics for Social Media Use or Print (Addt'l charge for print services)
Up to Three (3) Custom Digital Product Images for Promotional Use
Two (2) Custom Banners for Website with Matching Social Media Banners (Facebook, Youtube, and Eventbrite)
One-Time Site Maintenance: This allows your site to be logged into ONE TIME for the duration of this package to implement changes discussed on the 20min Brand Strategy Call. These changes may include price changes, picture updates (custom graphics for these pictures are not included unless they are within the graphics mentioned above in this package), inventory quantity changes, adding up to 5 new products (you are responsible for providing all information for these products), adding up to 5 new collections/categories, implementing up to 1 banner on the website, and implementing up to 3 discount/coupons.
Maintenance
Excellent work!!!! Super professional, timely, and dedicated to the process of your business
Kim is Amazing!
I just wanted to take some to highlight the hard work SDP has put into building and maintaining my brand. What stood out to me the most was your determination to go the extra mile to take my brand to the next level. Kim checked in with me weekly via zoom/phone and created a success roadmap to ensure that my project was set up for success! I cannot thank SDP enough for being a great asset to my brand!
The Best!!
I've had 2 logos and a flyer so far done by Kim and she is such a pleasure to work with! Awesome personality and spirit! She can take your vision and bring it to life even better than you imagined. When starting a business, there's a lot of things you have to consider and image is a top priority.. so to be able to have someone help you with that relieves so much stress and headache. I will always use SDP Business Studio for branding my business! Like none other! Phenomenal work!!